Cars Combo (4 in 1 Combo)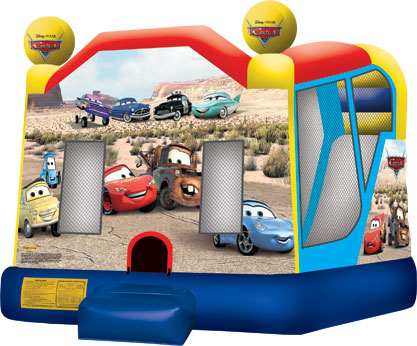 Get into the fast-paced action with the Disney Cars heroes! Join Lightning McQueen on the fantastic Disney Cars C4 Combo Castle. Win the championship with Lightning and the gang on birthdays, community days, or corporate events – what a fantastic way to celebrate the day!
There's a lot of fast paced action going on with Lightening Mcqueen, Sally, Doc Hudson, Mater and the rest of the Disney cars on this fantastic once in a lifetime race. So battle it out to win the championship with the help of this handy crew that will be right there by your side every step of the way. This amazing car lover's castle comes with a jumping area, slide, climb and basketball hoop too.
Comes with Jumping Area, Slide, Climb & Basket Ball Hoop this is a fantastic Jumping Castle
Rental Price
$240.0 (full day rate only- 7 hours, half day rates not available)
A small delivery fee may apply depending on your location but we try to keep this to a very minimum, we can advise during the booking process.
Dimensions
5.5m x 4.8m (requires a space of 6.5m x 5.8m)
Additional Info
Maximum Weight Capacity: 400kgs, approximately 10-12 children at a time (weight dependant).
Please ensure there is a space of 1.2m to get the castle through & advise of any steps / slopes in the booking process.