Tinker Bell (Disney Fairies) – 4 in 1 Combo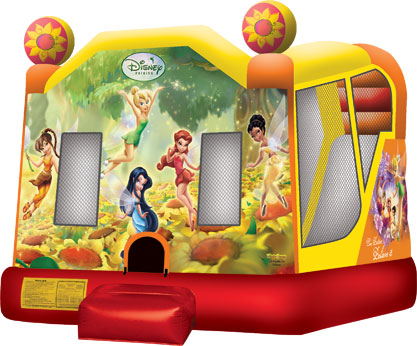 Shhhhh. Be part of the secret, Tinker Bell invites you to discover her secret magical world a world inhabited by her fairy friends, warmed by eternal Springtime, filled with ritual and ceremony, and sparked by fun, adventure, and a whole lot of attitude. A world called Disney Fairies. Enter this secret, hidden valley where fountains take shape and flow upside down, luminescent flowers line the homes of tiny woodland creatures and fairies actually talk.
Everyone's favorite little fairy is here and she invites you to discover a secret magical world that's extra fun with the edition of the rest of her fairy friends. It's sparked with excitement, adventure and a whole lot of attitude, in a secret hidden valley that is home to all sorts of talking woodland creatures and magical fairies and for one day you get to be a part of their secret adventure.
Comes with Jumping Area, Slide, Climb & Basket Ball Hoop this is a beautiful Jumping Castle
Rental Price
$240.0 (full day rate only- 7 hours, half day rates not available)
A small delivery fee may apply depending on your location but we try to keep this to a very minimum, we can advise during the booking process.
Dimensions
5.5m x 4.8m (requires a space of 6.5m x 5.8m)
Additional Info
Maximum Weight Capacity: 400kgs, approximately 10-12 children at a time (weight dependant).
Please ensure there is a space of 1.2m to get the castle through & advise of any steps / slopes in the booking process.